Ah,
sorry
it took me a little bit longer than I had anticipated to get a pic up! Weekends are usually the worst times for me to be productive since I work nights which means I sleep late on those days. ;)
in this one you can kind of see the asymmetry.. overall it's just a really comfortable piece with nice flow (sorry for the bad quality of the pic.. my camera battery was close to dead)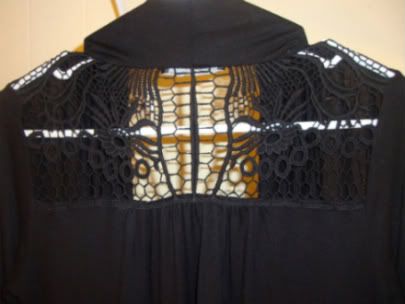 The back detail. I love how from the front this piece seems very "plain" (for lack of a better word) but then from the back it becomes so much more interesting! I esp love it because I have a tattoo across my upper back so it's a nice way to "show it off" while still being pretty covered up.
I paired it with a slinky long black cami, some slightly distressed skinny jeans, and the boots I posted a picture of a few posts back. As far as jewelry, I just kept simple studs in my lobe piercings but used a layered necklace from Forever 21 as the focal point. I really loved the way everything looked and wish I had gotten a full body shot though.
Overall I'm even more pleased with this item than I thought I would be... I have been looking for a nice long cardigan didn't want to pay Macy*s-esque prices for one piece (I'm trying to be more frugal... trying being the key word there) and didn't expect to find it at TJ Maxx for under $20! So my question to you all is,
where have you found your best deals?